Best Affiliate Program With Lifetime Commissions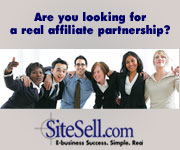 The affiliate program that you're about to discover has been rated as the best affiliate program by many well-known internet marketers, like Allan Gardyne from Associate Programs and Clint Pheeney from the Affiliates Program Directory.
In fact, as soon as you hear the words "lifetime commissions" they should make you very excited.
The program in question is the Sitesell.com affiliate program.
Why has this affiliate program received so much praise?
1. When someone buys the Site Build It package through your link, you receive $75. With a lifetime commissions policy in this program you earn annual commissions ($65) for every yearly SBI renewal made by the customer referred by you.
2. Over half of all Site Build It customers purchase at least one more SBI package. Once you have referred a customer to sitesell.com they remain your customer for life, and you earn commissions on every sale and renewal they make.
3. It's a two-tier program, which means you earn additional income from the sales made by your team of affiliates. (And these add up pretty quickly!)
4. The program allows you to target different types of potential buyers using landing pages that are specially crafted for each group of people.
Here are just a few of the sixty landing pages you can choose from:
5. There are over 600 different graphics that you can use for linking to any of these landing pages. They are designed to entice the reader to click, visit a specific landing page, and receive a cookie with your referral ID.
The Sitesell Promotion Center makes it very easy to choose a landing page and appropriate graphic, as shown in the image above.
6. You can use many different videos to target specific landing pages. The phenomenon of Youtube and other video-based websites is proof enough that people increasingly seek information through videos.
Embedding videos into your content (as I have done here) gives you a much better chances of getting clicks and persuading the visitor to take the next step.
7. You can even save 50% on your purchase of Site Build It after you join the program. Just follow the link, and I'll let Ken Evoy explain how to do that.
8. You can use any pay-per-click advertising program, such as Google Adwords, to promote Site Build It and even to bid on the company and product names. This means that you don't even have to own a website or a mailing list to start making sales with lifetime commissions.
9. There are a just a few landing pages on www.sitesell.com that will give your customer a PERMANENT cookie with your referral ID. If you manage to get a click by your visitor and refer them to that landing page, no other affiliate of sitesell.com will be able to overwrite your cookie – ever. 😉
To find out which landing pages grant you this non-overwriteable cookie, sign up for a free affiliate program and look for answers in the Sitesell Promotion Center.
10. The Sitesell affiliate program offers so much free educational information for affiliates, that even if you won't promote their products, you'll learn an incredible amount of useful information about affiliate marketing.
Ken Evoy's Affiliate's Masters Course is still one of the best and most often-cited ebooks on this this topic.
Besides many other reasons why this is one of the best affiliate programs on the web, there is one more and it's very time specific.
Sitesell offers a once-a-year, special Christmas promotion, which runs from the 15th to the 25th of December (often extended for a few days), which allows you to buy two SBI packages for the price of one.
Here's what Ken Evoy says about sales during this special promotion time:
That's also why I wrote this post today. I wanted to let you know that there's still time to really make the best of the best affiliate program with lifetime commissions.
If someone buys a Site Build It package through your link this December, you'll immediately get a $75 commission and in December next year, you'll automatically be paid a $65 commission when your referred customer renews their SBI subscribtion.
And lastly, if you have spent some time on my blog, you have probably noticed that Site Build It is almost the only product I promote.
The reason is simple: SBI has helped me become financially independent, and I trust it 100%.
I know that it offers outstanding value for money, and that makes me feel very comfortable and passionate in talking about it.
You may still be unsure whether SBI is the right product for you (my review is coming soon), but hopefully you can see that promoting Site Build It (and other Sitesell.com products) is a very rewarding way to earn money online and another step towards financial freedom by working from home.
P.S. I assumed in this post that you are at least somewhat familiar with affiliate marketing. If not, here are some great resources on affiliate programs and how to make the best of them:
Getting Started in Affiliate Marketing
Secrets Of Passive Income From Affiliate Programs
A Rock Solid Strategy To Help You Rank High In The Search Engines
Share and Enjoy