Buying Site Build It – Should You Invest $299?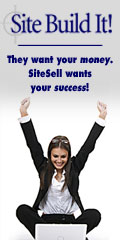 The goal of this post is to help you understand the cost behind Site Build It and why Ken Evoy has decided on this pricing model. Then it's going to be much easier to decide whether SBI! is for you, or not.
If you are not yet familiar with Site Build It, then follow the link to Sitesell.com (opens in a new window) and take some time to learn what Sitesell offers you with this comprehensive package to start your own online business and journey towards financial freedom.
The cost of the Site Build It package is $299 per year, and this makes it very different from typical web hosting packages where you can pay only $6.95 or $9.95 per month for a reasonably good hosting account.
(Note that paying $9.95 per month still makes it 12 x $9.95 = $119.4 per year.)
This $299 per year often stops people from taking that first step, and there's a reason for that.
Ken Evoy has shared his opinion on this in the SBI forums which are available only to affiliates and those who own an SBI. You won't find this explanation on the Sitesell.com website, so I'd like to share Ken's views on this and add my own.
1. The first reason why SBI costs $299, payable at once (when you first buy it), is to separate the people who are really committed to succeeding online from those who just want to try.
Do, or do not… There is no ' try'.

–Yoda quote
So many people just try and hope that something will fall into their laps, and in most cases, they fail.
Maybe they try affiliate marketing for a few weeks and nothing special happens. Then they try setting up a number of blogs to cash in on some Adsense, and again nothing much happens.
Then they may try reselling digital products and again find that they are not really successful after a few weeks.
They don't stay focused long enough on one objective, one goal, and this pattern causes them to fail again and again.
If you could pay for Site Build It monthly with $24.60 (which it actually costs, if you divide $299 by 365 days in one year and calculate the monthly cost), then many more people would try it.
And of course, many of those 'tryers' are the ones I described above. These people would fail with SBI! too, since it's not the product that's faulty, but rather their mindset.
And Ken Evoy prefers to have successful people associated with his product – those who are willing to commit – rather than have more money and a lower success rate with SBI.
So this pricing structure immediately separates winners from losers and ensures an extremely high rate of successful websites built with Site Build It.
So into which group of people do you fall?
2. The second reason why SBI costs $299 payable at once is that this investment 'forces' you to really commit in order to earn it back.
How dedicated would you be if you invested $6.95 in a monthly hosting package?
You wouldn't be motivated to earn this money back at all. You probably spend $6.95 almost every day when you buy coffee and some chewing gum.
This lack of motivation and dedication is another reason why people fail online with regular hosting packages.
Ken Evoy is a very smart businessman who understands human nature. His pricing structure for the Site Build It package is unique on the web, and so are the results of people using SBI.
And here's why I think that SBI pricing is still very low, considering all the tools and guidance you get when you own at least one Site Build It package:
If your yearly investment is $299 and this covers hosting and the use of all the tools included, then you have to earn more than 82 cents per day ($299 divided by 365) in order to at least earn your money back.
Now here's the question: how much do you want to earn with your website?
How many dollars per day is your minimum goal? $10? $20? $50?
If you are reading this post on a blog talking about financial freedom, then I hope your goals are at least $50 per day, if not much more.
$50 per day would earn you $1500 per month and that's still far from being financially free, unless you live in some of the poorer parts of Asia.
(You could easily live in Thailand with this income. Trust me, I lived there for 19 months.)
So here's your dillemma in plain sight – you are thinking whether investing $0.82 per day is too much money spent for your $50 per day earnings that you plan to earn with your website.
So if that's too much, then what would you like? Invest $6.95 per month and spend $6.95 / 30 = $0.23 per day and earn $50 per day? 😉
Remember, you get what you pay for.
Now that you've become aware of your dilemma, I hope the decision is much easier.
And if you are still unsure that SBI! is the right choice for you, I'll share my review of Site Build It in the near future. You'll finally be able to see how everything looks when you're inside. 😉
Share and Enjoy