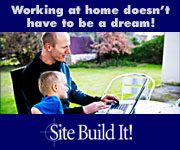 The final step of the 10 Steps to Freedom series shows you how to make the best of your talents both to ensure your financial independence in the long term and to serve humanity.
In case you are not financially independent yet, you may want to start with the first step and follow the journey to financial freedom:
1. Freedom Starts in the Mind
2. 5 Reasons to Follow Your Passion Instead of Money
3. How to Make Money Online and Enjoy Freedom
4. Ken Evoy and Site Build It
5. How to Write Content That Attracts Visitors And Natural Links
6. On-page Search Engine Optimization
7. Make Your Site Known – Link-Building Strategies
8. Intelligently Monetize Your Website
9. Test and Tweak To Maximize Your Website Income
Ensure Financial Independence In The Long Term
You've reached the end of one the most exciting and important milestones of your life. You are financially independent!
This means you are earning enough money from your home-based online business to can easily afford all the expenses of a normal life with, hopefully, some extra money to afford a great vacation, a new LCD TV, or even a more comfortable and safer car.
Share and Enjoy
Read More

»