Enjoying Financial Independence and Making the Best of Yourself (Step 10)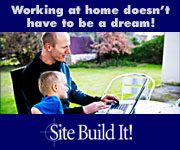 The final step of the 10 Steps to Freedom series shows you how to make the best of your talents both to ensure your financial independence in the long term and to serve humanity.
In case you are not financially independent yet, you may want to start with the first step and follow the journey to financial freedom:
1. Freedom Starts in the Mind
2. 5 Reasons to Follow Your Passion Instead of Money
3. How to Make Money Online and Enjoy Freedom
4. Ken Evoy and Site Build It
5. How to Write Content That Attracts Visitors And Natural Links
6. On-page Search Engine Optimization
7. Make Your Site Known – Link-Building Strategies
8. Intelligently Monetize Your Website
9. Test and Tweak To Maximize Your Website Income
Ensure Financial Independence In The Long Term
You've reached the end of one the most exciting and important milestones of your life. You are financially independent!
This means you are earning enough money from your home-based online business to can easily afford all the expenses of a normal life with, hopefully, some extra money to afford a great vacation, a new LCD TV, or even a more comfortable and safer car.
Your goal now is is to balance the freedom that your e-business success provides you with while still growing your online assets to ensure financial independence in the long term.
While it's highly unlikely that the whole Internet will crash one day, it is possible that your site could be delisted or penalized by accident, even if you never break any of Google's webmaster guidelines.
This is why you need to diversify your income streams. In case one income dries up for any reason, you'll have others to back it up.
You can diversify your income streams in 3 ways:
a) Diversify the topics of your websites
You don't want to make 7 travel websites that all depend on the same topic. Although people will always want to travel and the demand will grow in the future, your online empire will always rely on the same type of business.
The recent US mortgage crisis revealed that even massive and profitable markets like mortgages and housing loans are not always stable.
Your goal, then, should be to create different types of websites, like product reviews, travel, home related (improvement, cleaning, decorating, …), pet related (always in huge demand), and so on.
By doing this, your income will come from different types of visitors. It is highly unlikely that they would all be affected by the swings in the global economy.
b) Diversify your monetization strategies
Diverse monetization types will follow automatically if you follow the first step of creating different websites.
Even if your websites are all product review related, you can still monetize them with Google Adsense, Chitika, Amazon, Shopping, eBay and other types of affiliate links.
Online spending grows year after year, so you should never worry about a lack of demand.
It is still possible to be banned from Google Adsense, though, so if your whole online business model is based on Adsense, you run the risk of having a financial and mental breakdown, should your Adsense income suddenly disappear.
Your best bet is to sell your own digital products, create website earnings from contextual advertising networks like Adsense and Chitika, and build websites that focus on lead generation and affiliate marketing.
If you really want to be financially independent and free from worries about the future, imagine losing 50% of your income tomorrow and then determine whether you would still be able to enjoy financial freedom based on your online business.
c) Combine Online and Offline Businesses Based on Passive Income
Even though offline businesses typically create a lot of work, such as manufacturing, shipping products and customer support, there are ways to build offline businesses based on passive income.
One example is a small internet room where you rent internet connections for a fee based on the time spent online.
You only need to hire someone to collect the cash and make sure everything runs smoothly.
The key to success with this idea, of course, is demand and choosing a great location. While in the online world everything revolves around information, in the offline world the key to success is location.
Serve the Humanity With Your Talents
Let's say you've done all of the above and you now enjoy a constant stream of passive income with almost no work from your side.
Now what?
This is one of the most complex life questions faced by everyone who is financially independent.
Some of the wrong choices one can make after becoming financially free are:
• Wasting money on luxury cars, houses and clothes
• Wasting your life doing nothing that serves other people (being selfish)
• Just wanting more and more money
• Using money to gain power over other people
In my opinion, the purpose of life is to enjoy the ride while it lasts, learn life lessons that create better a character, and serve other people with the talents and skills you have developed in your journey so far.
I also think that money is only one third of what makes us happy.
Once the money problem is taken care of, you need to balance the egoistic desire to please yourself (which will always exist) with your purpose of serving and helping other people with your talents.
Your goal after becoming financially independent should be to help solve challenges that other people face.
You can help by:
• Creating digital or physical products (beginning tennis videos, how to make money online ebooks, writing how-to books…)
• Offering personal coaching and guidance
• Organizing and / or attending seminars on your topic
• Writing and submitting articles for online and offline publications
How I did it (and what I plan for the future)
I have, at present, two main income streams that earn me almost $10,000 per month. I sell ebooks and videos on my passion website, TennisMindGame.com, and I have created a few product review based websites that earn money through Adsense, Chitika and affiliate programs.
My goal is to create at least 5 to 10 large content websites that will depend on free search engine traffic and convert it into sales and clicks on PPC ads.
I'm already working on a new set of tennis videos for advanced players and plan to create 3 DVD's on tennis tactics next year, in collaboration with another tennis coach and good friend.
Since tennis is my area of expertise, I will very likely stay in this field and focus more on the mental side of the game, where I have good skills and talents, to help other tennis players overcome their mental barriers.
Another topic about which I feel passionate is financial freedom and independence.
I plan to share my ideas on this blog and, eventually, may do some coaching or even create an ebook or a training program to help others.
Another topic that I need to look into is the stock market. I plan, at the least, to start investing in mutual funds.
Thank you for reading this »10 Steps to Freedom« series.
I am 100% confident that you can achieve financial independence by following the steps I have outlined here.
Let me conclude this journey to freedom with my favorite freedom quotes:
"Those who desire to give up freedom in order to gain security will not have, nor do they deserve, either one." Benjamin Franklin

"Freedom lies in being bold." Robert Frost

"Freedom is nothing but a chance to be better." Albert Camus

"Everything that is really great and inspiring is created by the individual who can labor in freedom." Albert Einstein

The more freedom we enjoy, the greater the responsibility we bear, toward others as well as ourselves. Oscar Arias Sanchez

"Freedom is the opportunity to make decisions…"
Share and Enjoy