Financial Freedom Working From Home In 2 Simple Steps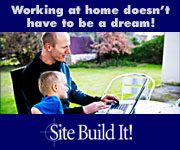 Achieving financial freedom by working from home with an online business can take just 2 simple steps if you take a look at the big picture.
Note that simple does not necessarily mean easy.
Working from home and pursuing financial freedom with an online business can become simple after a while, but it still takes effort and commitment, which most people don't find easy.
(Remember that simple is the opposite of complicated.)
Your final goal is to create one or more successful websites which rank high in search engines for the in-demand keywords that people use when looking for information online.
This will ensure a constant flow of visitors, which you can then convert into sales or clicks that will show up as a monthly check sent from Google, Chitika or another provider.
And in order to rank high, your site must have lots of quality content and incoming links from other websites which influence the ranking the most.
The two steps to achieve your goal, then, are:
1. Create lots of quality content.
2. Get external links pointing (links from other websites) to the content.
That's it.
That's the big picture of getting free search engine traffic night and day.
It's easy to get lost in the massive amount of information available on the Web. Thousands of blogs and websites produce new articles and tips, trying to add more content to their websites and earn more money converting readers into sales.
Instead of looking for more information on HOW to achieve financial freedom working from home, you need to focus on DOING the most effective actions that will bring you the best results.
What you need is a strategy for bulding content and a strategy for building links.
3 Strategies Of Creating Quality Content
People online look for solutions, help, information, products to buy and so on. So your focus needs to be on providing what people look for.
You can learn more about creating quality content in one of my previous posts, but now let's focus more on 3 effective strategies for writing useful articles.
a) Set up a schedule
One way to set up a schedule is to first do keyword research based on your chosen market niche and then decide how often you want to add a new article (based on a keyword) to your website.
My strategy for the last year was to:
Build a home page: 10 to 15 main pages, with each page having 4-5 related articles. This makes a website with 40 to 60 pages.
Add 2 new articles per week until the website reaches 100 pages.
Add one article per week from then on.
For the website that is my main passion, I wrote the articles myself. For other websites, I outsourced them, mostly through Need An Article.
b) Write based on daily experiences
If you follow your passion when choosing your niche, then this strategy works really well.
In my case, I coached tennis on- and off-court, and every day something would come up that I needed to explain to the player(s).
So later I would write an article about that topic. This was (and still is) an inexhaustible source of ideas for my tennis website and blog.
Another source of ideas for the content are questions that people ask me through my online form. The content that I write based on those inquiries is of course laser-targeted and extremely useful to readers of the website.
c) Write based on news and events in your industry
There are many blogs related to financial freedom and working from home that follow this strategy.
You can check their RSS feeds and main news websites, and then write your own view of what you think about that topic.
This is another inexhaustible source of ideas—although I don't like it that much since you rarely add something original to the Internet.
A Scheduled Link-Building Strategy
Building quality links to your site is crucial to your site's success.
You can find some link-building strategies in my previous posts, but let's try and break down the link-building into manageable time and task parts.
When you first start writing for your website or blog, you need to create some quality content before you look for links.
In the case of blogs, this step can be somewhat shortened since social bookmarking sites and other blogs don't mind linking to a "young" blog if the post is very good.
But when building a large-content website that will enable you to work from home and eventually achieve financial freedom, you need to build at least 30-50 pages of good content before you go hunting for links.
Here's a link-building strategy with a schedule that I often use:
a) Build 40 to 60 pages first (this is the first step in building content, as mentioned above), and then submit your site to major directories or blog directories. You can find the major directories I use in this post and blog directories in this one.
b) Submit 2 original or rewritten articles every week to ezinearticles.com targeting your homepage and one main page with the anchor text links from the resource box. Do this until you get links to all your main pages. After that, submit one article per month (or every 2 weeks) targeting one or two internal pages of your website.
c) Schedule 1 to 2 hours once a week to find reciprocal link partners.
d) If you have a blog, schedule 1 hour once a week to comment only on do-follow blogs. (those who pass pagerank)
e) Comment daily on all types of blogs (no-follow and do-follow) if you find interesting posts.
f) Once a week review your articles written in the past week and submit the best ones to social bookmarking sites.

g) When you have some free time, explore other ways of building links, like creating a Squidoo lens, posting in forums with a signature and so on.
How To Ensure A Long Term Motivation
Before you rush to implement these content and link building strategies, I'd like to share one tip I learned from Anthony Robbins.
Where most people eventually fail is when they create a to-do list. A to-do list sooner or later makes you feel that you HAVE TO do something, and this creates resistance.
Eventually you stop doing what you set out to do in the first place. The desire to be free from HAVE-TOs is so strong that we resist and fight even ourselves when we create a "have to-do" list.
That's why you need to create a WHY list.
Why are you building links? What will you achieve with them? If it's achieving financial freedom by working from home, then what's so good about it?
Once you dig deep and find the true reasons why you are doing what you are doing, you'll create a powerful and long-lasting motivation to drive you to complete sometimes boring and mundane tasks.
This "Financial Freedom Working From Home In 2 Simple Steps" technique is basically a to-do list which, if followed as outlined above, will undoubtedly bring you online success.
What you need to do next is to take some time and discover your WHYs. Before you even sit down at your computer, know and feel your WHYs.
Why are you pursuing financial freedom? What are the benefits of working from home?
Find your own personal reasons, and the above 2 steps of creating content and building links will not become something that you HAVE to do (and resist doing).
Rather, they will be something you can't wait to start doing every day.
Share and Enjoy