How to Write Content That Attracts Visitors And Natural Links (Step 5)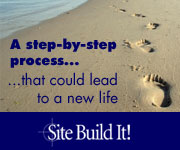 This is the fifth step of the 10 Steps to Freedom series. If you missed the previous steps you may want to start at the beginning:
1. Freedom Starts in the Mind
2. 5 Reasons to Follow Your Passion Instead of Money
3. How to Make Money Online and Enjoy Freedom
4. Ken Evoy and Site Build It
The purpose of step 5 is to help you create quality content for your website that stands out from the crowd and will rank high in search engines. The most important tips are:
1. Don't worry about your writing ability
2. Don't worry about grammar or spelling
3. Focus on Your Visitors (not SEO)
4. Deliver QUALITY content
5. REMEMBER: where there's a will, there's a way

But let's first start in your mind again, since there may be some mental blocks that stop you from even starting.
Here are the two most common obstacles:
1. I am not a writer! How can I write good articles?
I understand: I am also not a writer; I am a tennis coach! 😉 Hundreds of people on this page are not writers and yet they have very successful websites.
If you have decided to follow your passion you are undoubtedly an expert of your field EVEN if you don't think so.
Sometimes we think we must be perfect to share our knowledge. Or we think that since we didn't graduate in gardening, we cannot share tips on gardening.
That's a limiting belief that stops you from taking action.
You will find that there are thousands of people who can benefit from your knowledge – and it doesn't have to about the latest research in nuclear physics.
Remember, people don't read on the web in the same way as they do books. On the web, people scan to get to the most relevant information in the shortest amount of time.
That's why websites like www.wikihow.com are extremely popular: because of the simplicity and usefulness of the information.
Surely you could write a short how-to article about you topic, right?
And if you can do that, you can expand the article and explain things in a little more detail.
Writing for the web is similar to explaining to something you know about to a friend.
This brings me to the second block…
2. I tried writing, but I keep making grammar mistakes. Then I correct them and my writing stops.
Exactly. So don't do it. 😉
When you write do it just as your thoughts come to you. Stay with the flow and just write.
You can edit LATER!
You'll probably edit your article a few times before you are happy with the structure and the whole flow of it.
Remember, the web isn't as formal as published articles: you can write as you speak, and as long as your visitors can understand what you mean, that's fine.
So don't worry about grammar mistakes, just write, write, write …
3. Don't Worry About SEO, Focus On Visitors First
Now that you've gotten to the point of writing without worrying about mistakes and you are on the roll, you'll need to find a way to please both visitors and search engines.
But the truth is, that SEO (or search engine optimization) on your page is quite a simple thing. If you follow a few simple principles of optimizing your page for the search engines, you'll easily rank high for many keywords on that page.
(You'll learn SEO basic and advanced tips in the next step.)
Google doesn't expect millions of people to master the art of SEO. Google, Yahoo and other search engines are smart enough to figure out what your page is about and whether it was written by an expert, without needing it to be perfectly SEO optimized.
That's why it's better to focus on delivering QUALITY information (and not necessarily quantity).
Remember to write for your visitors point of view. It is tempting to put down everything you know, explaining with lots of detail.
But think about what is most relevant to your visitor – they might want to learn 'how to' without to much information on 'why'. Aim for simplicity.
Let me show one extremely simple, very useful in very successful website following the principle of writing for visitors from someone who is an expert in one simple thing:
Caspar, the owner of this website, created it to explain how to tie a tie. It attracts several thousand visitors every day.
He offers simple, useful information, most of which is free.
That way he attracts many natural links (like the ones I have given him here) is by offering genuinely useful information.
You'll see that his articles are very simple and easy for anyone to understand.
And on top of that, Casper offers his information in a video format, which you can buy for only $13,95!
You can only imagine how many of those he sells every day …
This is one of the best examples of how you can help thousands of people every day without needing to write complicated or perfect articles on your topic.
4. Why You Should Deliver Quality Content That Attracts Natural Links
Writing highly valuable content for your website will benefit you for years and it's different to sharing knowledge offline.
Let's talk about tennis. I have given many excellent tennis lessons, with top quality coaching information, where the intensity of practice made for a fun and exciting session.
But in a practice session only a few players benefit and after that I have to create a similar lesson the next day. And the next… And the next…
The sad thing about the offline world is that after you give your best effort and your most creative it's lost forever.
Not so on the web.
If I create a high quality tennis lesson on the web, it will help people every day to improve their game.
It will become more and more popular as people bookmark it and link to it.
A service like Addthis.com can show you which pages visitors have bookmarked on your site and how many times.
As you can see many visitors have bookmarked my pages and you can check one of the pages here to see what I mean by delivering on quality content and useful information:
One of the most important factors in whether your page / website ranks high in search engines are links from other websites pointing to yours.
This counts as a vote of confidence in your content's quality and will significantly improve your rankings. But in order for your page to gain natural links it must be different and better than thousands of other pages on similar topic.
(Sidebar:
Natural links are links that are created without you asking the owner of the other website for the link in return for a favor, another link or money.
Natural links happen because other webmasters feel that a link to your website will benefit their visitors even if they leave their website through the link to your website. This is a true vote of confidence and it's one of the most important ranking factors of search engines.
End Sidebar)
That's why I suggest you give your best and put 100% effort into creating high quality content. You may have to write it only once but in time it will attract more and more natural links that will help that page rank ever higher.
Once the page moves up the rankings, it will receive even more links and slowly but surely start to dominate the search engines.
Here's an example of how a page about Andre Agassi gained great natural links because it was original and different from many of the boring biographies of this great tennis legend.
The Ultimate Test Of Whether Your Content Rocks

How can you really know that it's not only Google and a few webmasters that think that your content deserves high rankings, but also many visitors?
This ultimate test is being found through word of mouth.
This means that your website is not being found by a specific keyword that you are trying to rank high (like tennis tips, mental tennis, tennis instruction and so on) but by the actual name of the website.
This tells you that someone has told the new visitor the name of the website and now they want to find it on the web.
Here's what I mean:
As you can see, my tennis website has been found 68 times in the month of November for the keyword tennismindgame and 55 times for the keyword tennis mind game.
Both these keywords mean these visitors found my website through word of mouth and typed the exact website name into the search engines.
(These keywords by themselves don't really make sense so it's logical that the visitor was looking for my website name.)
Once you know that you are getting found through the word of mouth, you know that your content deserves high rankings and provides great value.
How I did It
There are many examples above of how I created quality content. But let me share one more major obstacle that I had to overcome.
The Language Barrier.
English is not my first language and I wasn't able to speak fluent English until I had spent a month in the USA in 2000.
And yet I decided to write my website in English (with some pages in Slovenian too), though my English was far from perfect.
How did I solve that problem?
At first, I tried to write simple English sentences, which I knew were correct. I also read and reread my articles many times to find and correct any parts that didn't sound right.
Later I asked my cousin, who had studied English language at University if she could proofread my articles.
She liked the idea since it gave her the chance to practice her knowledge of English grammar and English syntax.
I offered her a fee, which she kindly halved, and this made it very cheap for me to put articles in good English on my website.
For my first ebook I asked a friend whom I met at a seminar in London if she could proofread it. She did it for free. Which reminds me, I must send her a Christmas card again…
Later I became good friends with Kathy Krajco from OperationDoubles.com. We helped each other with links and tips about website design and optimization.
Kathy also works as a freelance writer and editor and she was happy to edit and proofread my articles for a very affordable fee.
And a little later when my online income exploded, I came across Scribendi.com

which I now use for almost all of my tennis articles and posts that I write for this blog.
And yes, this post was edited by a Scribendi editor too. 😉
Scribendi services cost more than my friends charged me, but I don't mind since they provide top quality editing and proofreading and allow payment through paypal which is very convenient.
Hopefully this example will show you that there is always a way to find a solution.
Where there is a will, there is a way.
Next: Basic And Advanced SEO Tips
Share and Enjoy