Ken Evoy and Site Build It (Step 4)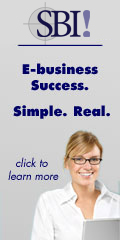 This is the fourth post in the 10 Steps to Freedom series that shows you how to achieve financial freedom by working at home.
If you've missed the previous posts, then you might want to start reading at the beginning:
Step 1: The Freedom Starts In the Mind
Step 2: 5 Reasons To Follow Your Passion Instead Of Money
Step 3: How To Make Money Online and Enjoy Freedom
Just a quick reminder from the previous step: you learned that there are three main strategies or ways of earning money online, but only one of them gives you the freedom of working whenever and wherever you want (so long as you have an internet connection).
This strategy is about creating a large-content website that relies on free search engine traffic to bring hundreds or thousands of visitors per day on your website.
You can then monetize this traffic by selling your own digital products or referring visitors to other merchants who sell either physical or digital products and earn commissions in the process.
The main question now concerns who is going to teach you how to build a successful website and where will you get the tools you need to do it.
Meet Dr. Ken Evoy
Ken Evoy is a Canadian medical doctor who, early in his career, realized that he would never be totally free by working in a hospital.
He decided to venture open his own business (toy and game design), and eventually became extremely successful by licensing over 20 designs to large companies and generating millions of dollars in sales and royalties.
In 1996, Ken started using the Internet as a way to promote and sell a software package he wrote for his highly specialized, niche investment strategy .
Through testing and applying his already successful business principles, Ken mastered the art of developing a successful website capable of bringing in free search engine traffic and converting these targeted visitors into customers.
In November 1997, Ken launched www.sitesell.com with the purpose of helping other people reach financial freedom through the power of Internet.
His Make Your Site Sell ebook, written in 1999 became The Bible of selling on the Internet, and has sold more than 100,000 copies to date.
The 2002 overhauled version, with over 1500 pages, is now free for download.
What Is Site Build It?
I'll let Ken Evoy explain to you what Site Build It is and how it can help you achieve financial freedom.
I also suggest that you take the time to check the video tour of Site Build It after the short 2- minute video. Just click on the video after it has finished.
How I did it
After I decided that I also wanted to run my own website, I asked a friend in the IT business to help me create one. He suggested a company that eventually built a website for me for $700.
I had the ability to write text and add graphics and I thought this was a good deal. 😉
(Of course, no one taught me how to build substantial traffic to the website. I thought it would just happen.
But the fact is, you need to understand how the Internet and search engines work and use that to create high-ranking pages on your website.)
I later decided to add a newsletter module and the company told me this would cost an additional $300.
I thought to mself : Wow, and if later I decide to add a form module, or an RSS module or a tracker module, they are going to charge me again and again and …
I started researching to find a better, more affordable solution and came across Site Build It.
At first I thought that there was no way I could get all these tools for the price of my newsletter module from the old company.
I started searching the web to learn more about Ken Evoy and the Site Build It product and found hundreds of articles praising Ken, the Make Your Site Sell ebook, and Site Build It (SBI).
On November 1, 2005 I made my first purchase of Site Build It and on the November 6th, I registered www.tennismindgame.com.
Fast forward two years – I am close to earning $10,000 per month with only 2 SBI websites with 2 more in the early stages (I am now creating content and building links).
I created quality content and let SBI do the grunt work behind the scenes, like submitting to search engines, distributing my RSS feed, building an automatic blog, and much more.
This attracts more and more daily visitors to my websites (one gets around 1000 visitors per day, the other almost 3000) and increases my daily income.
The more I give – useful content – the more I receive – traffic and income.
Site Build It changes lives and I invite you to have a look at the videos that many customers have created to share why they love SBI.
P.S. Did you find my video? 😉
Next: How to Write Content That Attracts Visitors And Natural Links
Share and Enjoy