Make Your Site Known – Link Building Strategies And Tips (Step 7)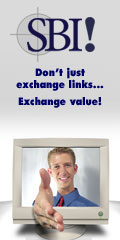 The seventh step in the 10 Steps to Freedom will show you link building methods with some insider tips on how to get good quality links.
In case you have missed the first six steps, you might want to start at the beginning:
1. Freedom Starts in the Mind
2. 5 Reasons to Follow Your Passion Instead of Money
3. How to Make Money Online and Enjoy Freedom
4. Ken Evoy and Site Build It
5. How to Write Content That Attracts Visitors And Natural Links
6. On-page Search Engine Optimization (SEO) for Beginners and Experts
Why Build Links?
Links pointing to your website are the key to ranking high in the search engines, especially Google.
If another website links to your website and even includes the keyword you want to rank for in the anchor text, this sends a clear message to Google and other search engines that your site should rank highly, especially is the keyword is used in the anchor text.
Sidebar: Anchor text is the text included in a link pointing to your website. If someone links to this blog with the anchor text Financial freedom, it tells Google that this blog is about achieving financial freedom.
If someone linked to this blog with the anchor text "Click here," the blog would receive a vote of confidence, but it wouldn't necessarily improve its rankings for the keyword "financial freedom." Instead, it would rank slightly better for the keyword "Click here."
End Sidebar
A website with quality content but no external links is practically invisible to search engines.
What's also important to remember is that a link from a related website counts much more than a link from a non-related website.
For example, if someone from a financially related website links to this financial freedom-related blog, it would improve this site's rankings much more than if someone from a dogs-related website links to it.
There is also a theory that one-way links weigh much more in terms of benefits than reciprocal links do. This theory makes sense, although I haven't seen any statistical proof of this claim anywhere on the web.
I don't worry too much whether I receive a one-way or a reciprocal link, so long as it is from a closely related website on a quality page. This means that my site's link is not buried among tens, or even hundreds, of other external links on page that almost no one visits.
5 Main Strategies of Building Links
Before you start working on getting the incoming links, you must make your site worthy of receiving a link.
I suggest that you build your site to at least 50 pages of high quality content with pictures, videos (if possible), and links to other useful websites. Putting ads and affiliate links on your site decreases the chances of getting a good link, so refrain from monetizing for now.
Sidebar: You can monetize your site a little bit without links; with 50 built pages, you'll probably receive 20 to 30 daily visitors.
If 5% of those click on Adsense or other types of ads on your website, you'll earn around 10 to 20 cents per day. 😉
I recommend waiting until you have at least 200 visitors per day before monetizing your site. At that point, you may earn from 5$ to $10 per day, which would make your monthly income $150 to $300.
End Sidebar
Assuming that you followed my advice and didn't monetize, here's how to get incoming links to your website:
1. Authority and Niche Directories
In their webmasters guidelines, Google suggests that site owners " … submit their site to relevant directories such as the Open Directory Project and Yahoo!, as well as to other industry-specific expert sites."
Yahoo submissions cost $299 per year; in my opinion, this is a worthy investment to get one of the most trusted incoming links. If you cannot afford it right away, submit your site to Yahoo when you can.
I submitted my tennis website to Yahoo directory more than 1 year after I started it and began my journey towards financial freedom.
There are not many really trusted directories out there, since Google has hit many directories with penalties for selling pagerank.
The ones that I suggest and submit to are:
• BOTW.org
• Goguides.com
• Joeant.com
• Gimpsy.com
In addition to those, you may want to search Google for specialized directories related to your niche / topic.
2. Article submissions
There are so-called article directories that allow you to submit your article with up to 3 links back to your website.
Again, there are hundreds of different article directories, but only a few are really effective.
»Effective« means that these directories bring traffic to your website and that other webmasters pick up article from the directory to post on their own websites, again with a link back to your website.
Here are the top 5 article directories that will benefit you most, in terms of getting high quality links to your website:
1. Ezinearticles.com
2. Ideamarketers.com
3. Goarticles.com
4. Articledashboard.com
5. Articlealley.com
Do not submit an article that is already posted on your website, since you run the risk of being penalized with a duplicate content penalty.
Instead, either rewrite your article or write a new one.
There's one more strategy for submitting articles to other websites; one of the best is to find websites related to your topic and ask them if they would accept your original article in exchange for a link back to your website.
Getting a quality link is effective in terms of improving your rankings, but it does take time to find a quality website that will accept your article in exchange for a link back.
You'll learn how to find related websites in the next link building strategy…
3. Reciprocal links
The best reciprocal link that you can get is a link within a page that is closely related to your website's topic.
For example, if a page on another tennis website talks about tennis tips and links to my tennis tips page with the link text "tennis tips," this is the most effective link I can get.
Linking to another high quality website from within your site's content is useful for both your visitors and search engines, as the search engines can recognize this relationship and rank your pages accordingly.
Linking to a low quality website can negatively affect your rankings, so you need to make sure that you approach only high quality websites related to your topic when asking for a link exchange.
Here's where you can start your research:
Find the most relevant topic to your website in the Yahoo directory and email the websites listed there asking for a link exchange.
Google's directory is a mirror of DMOZ with one difference – the websites are listed according to the pagerank.
Pagerank is part of Google's algorithm for ranking websites and can give you a good guideline of which websites are of the highest quality (or not).
Again, find the topic most closely related to your website and contact the webmasters asking for a link exchange.
c) Links, resources or partner pages of high quality websites
Many websites have their own directory of related websites with which they have exchanged links.
As you research the websites from the Yahoo and Google directories, always check to see if they have partner pages. By doing this, you can find websites that are interested in link exchanges.
What I suggest is that you don't ask for a link from the partner pages, since they are typically low quality links, but ask for a link from within the pages' content. Of course, you must offer the same.
There are also programs that allow you to list your website for potential link partners. I have tried many of them and can really recommend only one:
Make sure to download a free ebook from Ken Evoy (following the above link) Make Your Links WORK to get more link building tips and ideas from this prominent internet marketer.
d) Backlink analysis of your competitors
Another way to find websites where you can get a link back to your website is to find who is linking to other high quality websites on your topic.
This can be done easily with a link: www.website.com command in Yahoo.com.
Choose Show Inlinks "Except from this domain" and you can find almost all the links pointing back to the website that you have researched.
Once you find the page that links back to that website, you can also figure out a way to get your link there too.
There's one more way to get a link back to your website – buying it.
Buying links is against Google's webmasters guidelines and I advise you not to do it.
If you are going to follow the idea of building a large content website that will earn money day after day and provide you with the financial freedom you look for, you'll have to rely on Google as your main traffic source.
You don't want to be penalized by Google for buying links (which interferes with their algorithm) and lose all that precious traffic and income.
Playing by the rules of the Google game is the most reliable way to achieve financial freedom with an online business.
4. Social Networking
Social networking is the latest craze on the web with sites like Facebook, Youtube, Digg, Stumbleupon and others welcoming millions of users every day.
Some social networking websites will give you a link back (although most of them come with a no-follow tag which won't help with the rankings in Google) and some will just send you a lot of traffic.
Here's a list of top 30 social networking sites that you can use to get some links and attention for your website.
Note that most users of social networking sites are young males with interests in computers, cell phones, space and sports related topics and funny videos.
If your website is related to these topics, you may have good success with social networking. If, on the other hand, your topic is more "boring" like my vacuum site, you'll probably just waste time trying to get attention from these sites.
5. Forum Signatures
Many forums allow you to place a link back to your website in your signature. Although links don't improve your link popularity much, they can eventually add up, especially if you take a few minutes every day to post 3 or 5 answers in the forums.
This could lead to more than 1000 backlinks in a year.
Here's a simple Google search that will help you find a forum related to your main keyword:
There are, of course, other link building tips and if you are a blog owner, you may also like my 7 Link building tips for newborn blogs.
If you are still looking for more link building tips and ideas, then brace yourself for these massive articles on how to get more backlinks to your website:
1. 101 Link Building Tips to Market Your Website
2. 131 Link Building Strategies
3. 66 Ways to Build Links in 2007
Next: Intelligently Monetize Your Website
Share and Enjoy