On-Page Search Engine Optimization for Beginners and Experts (Step 6)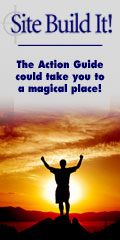 The sixth step of the 10 Steps to Freedom series provides basic and advanced tips for on-page search engine optimization (SEO) that will further improve your website rankings in free search engines.
To recap, the steps we have covered so far are:
1. Freedom Starts in the Mind
2. 5 Reasons to Follow Your Passion Instead of Money
3. How to Make Money Online and Enjoy Freedom
4. Ken Evoy and Site Build It
5. How to Write Content That Attracts Visitors And Natural Links
Basic SEO Tips
Most users search the Internet via recognized search engines, such as Google and Yahoo, by entering keywords that relate to the topic or product they are trying to search for. According to Onestat.com, the typical number of keywords used in an average search is from one to four words.
The goal of on-page SEO is to inform these search engines about the content of your website – to ensure you are ranked highly in the search results – by using factors that you can control on your home page. These factors include the words you use in the title, meta tag, in the website's content and so on.
Please note: on-page SEO is different to off-page SEO (the promotion of your website via external links). You will learn about this in Step Seven.

Using on-page SEO techniques, you can optimize a website for certain keywords. Here's how:
1. Include important keywords in the title, possibly close to the beginning.
2. Include keywords in the meta description tag and the keywords meta tag.
3. Include keywords in the first sentence on page and possibly format it in bold.
4. Try to include both singular and plural versions of keywords close to the beginning of articles.
5. Aim for 1% keyword density of primary keywords. For example, if an article is 500 words long, include your primary keyword 4-6 times in the article.
6. Use secondary keywords once or twice in each article. Secondary keywords are tightly related keywords to the original keyword.
For example: "Dyson vacuum cleaners" is a primary keyword, whereas "Dyson vacuums" would be a secondary keyword. Similarly, in this article, the primary keyword would be "search engine optimization" and the secondary keyword would be "SEO".
7. Include your primary keyword and its variations in all picture tags on the page.
8. Try to include one or two text links on your page that include the primary keyword in the anchor text.
9. Include links to other high-quality and/or authoritative websites, but limit yourself to three or less links per page.
10. If you need to link to a site that you don't trust or is an affiliate link, use a "no-follow attribute" to prevent "pagerank leak" and possible penalties that may result from linking your website to a low-quality website.
You should follow these 10 tips of basic search engine optimization for every page you build. I would also recommend that you follow Google's webmasters guidelines which give you similar tips about optimizing your pages for Google.
Of course, the structure of your website also determines how well your individual pages rank and how authoritative it appears in the particular subject.
As a result, you should make sure that:
– you organize the site into a clear hierarchical structure that is no more than two levels deeper than the home page (home page, first level, second level)
– create a sitemap that links to each page of your website (if the sitemap would contain more than 100 links, break it down onto multiple levels.)
– link back from every article to the homepage and make sure that the anchor text contains the main keywords that users will be searching for.
Advanced SEO Tips
Using more advanced search engine optimization techniques will help you to gain key advantages over rivals in competitive markets or help you to rank highly in less competitive markets with much less needed incoming links.
Besides following all the basic search engine optimization tips outlined above, you can also employ more advanced techniques, such as:
1. Use themed keywords across your articles. Themed keywords are words commonly found in pages that rank highly in search engines for your primary keyword.
If you are an expert in your topic or industry, then these themed keywords should be clear to you; in fact, you'll probably include them naturally while explaining your topic.
In case of Dyson vacuum cleaners mentioned above, the primary keyword is "Dyson vacuum cleaners", but themed keywords would include: "cleaning", "Dyson DC15", "DC 14", "DC 17", "upright", and so on.
If you are not an expert in the topic, and you want to find relevant themed words, then one way of doing that is to use the Google Adword tool to check site-related keywords for the top 10 sites listed in Google for each particular keyword.
The keyword tool will list most of the themed keywords on the page, and once you repeat the process for all 10 websites, you'll have a pretty good idea which keywords are commonly associated with your primary keyword.
It is time consuming, but it does provide results. Alternatively, you can use one of the few keyword tools that cover Latent Semantic Indexing (LSI).

Nichebot.com offers a great LSI tool for members and provides free LSI report for all non-members. Membership costs only $9,95 per month. If you are not a member, you can still download a free LSI report here.
You may also want to check on of my previous articles about finding related keywords.
Another keyword tool, which is based on LSI and search-engine-proven synonyms is Themezoom.com. The full version is quite expensive, but you can get a "lite" version by signing up for University2020.com which costs $97 per month.
2. Include "thesauric" and search engine proven synonyms on the page (or in subheads)
A thesauric synonym is a word or a keyword that is considered a synonym in a thesaurus.
Check the synonyms for clean on www.synonym.com/synonyms/clean.
A search-engine-proven synonym is a word or a keyword that is very often associated with your primary keyword on the web.
You can find these keywords by using a ~ (tilde) operator in Google and by looking for keywords listed in bold.
Google for example emboldens the following keywords when you search for ~clean:
CleanUp, cleaner, clear, cleaning
3. Only link between internal pages within your "silo". A silo is a popular term which describes one of the main pages of your website – typically a menu page – that includes links to related articles of that page.
For example, if your site is about vacuum cleaners, than one of the silos / main pages could be Dyson vacuum cleaners which would include links to each individual Dyson model (DC 14, DC 15, DC 17, …) under review.
The key to receiving high rankings for your Dyson-related articles, and the main Dyson page, is to link them to each other if needed, but also to ensure that there are no links to, for example, Eureka vacuum cleaners. These should be covered by another silo / main page.
How I Did It
I learned everything I know about basic search engine optimization from the Site Build It Action Guide.
Site Build It tools also include an SEO Analyzer which checks every page you build for these basic SEO techniques.
For example, if there is something missing or if you've used too many keywords on a page (which could trigger spam flags in search engines) the Analyzer will remind you before you build the page.
Therefore you just need to tweak the page until it passes the Analyzer. In my opinion, this is 90% of the on-page SEO that you need to do.
The Action Guide also suggests the above-mentioned hierarchical site structure and some advanced ways of linking the pages internally to make your pages rank higher in natural search results.
I built my websites using these basic SEO suggestions and made sure that every page passed the SEO Analyzer before I built it.
As a result, I eventually became more interested in advanced search engine optimization and learned a lot from other SEO experts.
I also wasted a lot of time reading and trying to apply conflicting theories of various internet marketers.
A word of caution: as more advanced SEO is to an attempt to reverse engineer the algorithms of search engines, especially Google, some of it is pure guesswork.
Therefore, most of what you read is basically theory.
At present, there is no 100% proof that the tips you read will actually help your pages rank higher. However, in my experience, the following internet marketers do actually add something useful to your knowledge of SEO:
1. Dr. Andy Williams – Search Engine Optimization Strategies (ezseonews.com)
2. Charles Heflin – Internet Marketing for the New Generation (seo2020.com)
3. Steve Nash – Search Engine Optimization Tips (howipromotemywebsite.com)
Next: Step Seven: Make Yourself Known – Link Building Strategies and Tips
Share and Enjoy